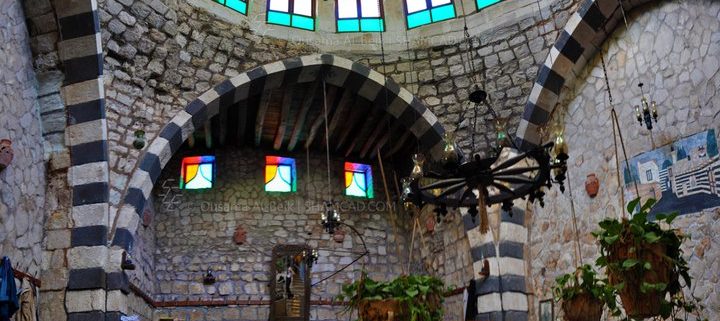 Sami Moubayed | Originally published in Huffington Post
The fabled Turkish baths of Damascus, or hammams, have been the subject of literature and film for decades. Not too long ago, they were a prime tourist attraction in the Syrian capital but many closed down and sunk into oblivion because of the spiraling violence after 2011.
If there is one positive aspect to the current war in Syria, it is in the life that it has breathed into the Turkish baths of Damascus.
All of them are back from the dead, now in full-operation, returning to the original purpose that they served hundreds of years ago — offering common space bathing and relaxation to residents of the ancient capital.
When hostilities broke out in 2011 the ancient baths were immediately affected by the violence. The tourists disappeared, almost overnight, and so did locals who rarely promenaded into the Old City any more.
Close to battlefields of the Damascus countryside, these ancient quarters were constantly hit by mortar fire, making them very unsafe after sunset, and they were now riddled by troops and army checkpoints. Kidnapping became common in 2013, and so did car bombs. Most hammams had to lay off their staff as did other businesses in the Old City.
Many of the young workers fled their native city, either travelling on "death boats" to the safety of Europe or were conscripted into the Syrian army and dragged into battle. The old baths were painfully transformed into ghost chambers, void of any life or commotion. Many closed down.
By mid-2014, business started to miraculously pick-up once again at the Damascene baths. The tourists were not back but new customers started showing up; being the new residents of Damascus, mostly internally displaced refugees from war-torn areas who flocked to Damascus from places like Aleppo, Raqqa, Deir Al Zor, Idlib, Homs, Hawran, and the Damascus countryside.
The population of cosmopolitan Damascus has mushroomed from four to approximately nine million inhabitants. Due to the high price of real estate in the modern districts of the Syrian capital, many newcomers preferred rented accommodation in the Old City. Although more dangerous, it was much cheaper. Many rented living space with other displaced families, making use of old spacious two-floor mansions in the Old City.
Each of these homes had anywhere between 10-20 rooms but no more than one bathroom, forcing tenants to walk to the nearby baths for basic hygiene purposes. Electricity was available 24/7, thanks to power generators, and all the baths had a constant supply of hot water, unlike private homes that were plagued by chronic water shortages.
Mustapha, a masseuse at an ancient bath behind the grand Umayyad Mosque, told Gulf News: "In 2012-2013, many businesses closed down. Damascus literarily died and only recently came back to life; so did the hammams." He recalls that in 2011-2012, an entire month would pass where not a single customer would walk into the old Turkish baths.
"Now it's different. On Thursdays, up to 70 customers walk in per day. On holidays the number can reach up to 100 daily. During the week we have anywhere between 25-30 customers/day. Some are soldiers and members of the local defence committees, who are on duty and cannot go home to bathe so they come to the hammam, but mostly it's the new residents of Damascus."
Customers are asked to undress, and they are wrapped with long towels at the head and waist. The baths offer a hot steam room, a bathing chamber with large stone sinks of non-stop hot & cold water, a scrub worker, and a massage room. Special days are assigned as "women-only". When the bath finishes, many customers lay back to have dinner — served by all of these baths — listening to Um Kalthoum, smoking a Turkish pipe, with a round of strong red tea.
The entire evening, meal included, costs no more than 700 SP ($1.75 USD). "We are back in business" says Mustapha, without even trying to hold back his smile, saying that staff at his bath rose from three in 2013 to 16 in 2015.
When preparing for the Madrid Peace Conference back in 1991, US Secretary of State James Baker made frequent stop-overs in Damascus where he was once taken to the 12-century Nuriddine Hammam at the Bzurieh spice market in the Old City.
It was a stone's throw from the breathtaking Azm Palace, home of the eighteenth century governors of the city, and next to the Khan As'ad Pasha, a one-time lodging for guests of the Ottoman governor of Damascus, now used for lectures, dinners, and musical shows.
A splendid work of Oriental art, with stone walls, mosaic-inlaid furniture, coloured windows and domed high ceilings, the Nuriddine Hammam was an A-class tourist attraction for Damascus. The outside reception room was constantly heated with a giant furnace, or soba as it's called in Damascus, and inside bathing chambers with a non-stop supply of hot air and water.
Giant Mosaic-framed mirrors were neatly titled at corners of the main hall, for customers to use when dressing up after a good warm hammam session, giving a full view to whoever stood before them but making onlookers look amusingly short. Customers streamed in non-stop to bathe and relax, playing cards, munching on Damascene sweets, singing, and hanging out with friends.
Nuriddine and other Turkish baths were always a major tourist and cultural attraction for the Damascenes, frequented by state visitors, camera-clicking vacationers, and ordinary Syrian males who had a habit of throwing bachelor party for friends at these hammams.
By the mid-1950s, 50 of them were still in full operation in Damascus although legend has it that at one point in time, the city had 365 baths, one for each day of the year.
Among the most famous surviving until present, in addition to Nuriddine, are Hammam Al Ward in the 800-year-old Souq Saruja neighborhood outside the walls of the Old City, and Al Malek Al Zaher, behind the Umayyad Mosque. Mohammad, a regular customer at the first bath, smiles and tells Gulf News: "They are priceless and ancient — older than the United States of America! Damascus simply wouldn't be Damascus without them."
A classic 1968 comedy, Hammam Al Hana, is set at one of these baths, staring comedy legends Duraid Lahham and Nihad Qali, further popularizing the venue for generation after another.
Sami Moubayed is the chairman of the Damascus History Foundation.
Follow us on Twitter @DimashqJournal
http://www.damascus-foundation.org/wp-content/uploads/2016/07/1400500765_content.jpg
591
720
admin
http://www.damascus-foundation.org/wp-content/uploads/2018/02/DHF-LOGO-TEXT-arabi3c.png
admin
2017-01-11 04:00:48
2019-05-19 14:51:30
Hammams of Old Damascus: Back from the Dead