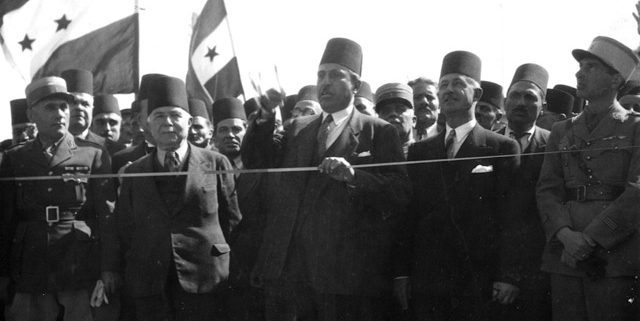 Episode Seven: The Rise of the National Party
Dimashq Blog | Fadi Esber
Six months before Election Day of 1943, the National Bloc was disbanded and renamed the National Party, at the orders of Shukri al-Quwatli (FO 226/240/9/4/180, Memorandum to FO, 29 April 1943). It was an audacious decision and earnest attempt at breaking with the older generation of veteran politicians, creating a new movement for the Damascus political class. The city was in dire need of change, and so was Syria. Shahbandar's People's Party of 1925 had been torn apart and was never allowed to re-emerge. A monarchical party had briefly emerged in the early 1930s, calling for the restoration of the Hashemite crown to Damascus, but it too faded away with King Faisal's death in 1933. The League of National Action had been formally dead since 1939. As an older generation of nationalists departed the scene, young politicians from the Syrian Social Nationalist Party and the Syrian Communist Party burst onto the scene at the expense of the National Bloc's electoral base throughout Syria.
Unlike the new ideological parties, the National Party had no ideology and no official platform, apart from seeking to achieve Syria's independence and to ensure the unity of its lands. Although outspokenly anti-colonial, the new party did not tackle any of the big issues of the Arab World and had no ambitions outside of the Syrian Republic. Its founding documents said nothing about socialism, liberalism, Islam, or Arabism. It did not strive to restore Lebanon to Syria, for example, or to bring down the pro-British monarchies in Baghdad and Amman. The National Party was, put simply, a 'Syria First' party. Independence came first, its founders argued, Arab affairs second. Only when free and united can Syria strive to achieve Arab unity.
The National Party was backed financially by the Damascus merchant class. It was perceived as being "close" to Saudi Arabia and Egypt, due to Quwatli's old alliance with Ibn Saud and King Farouk. This put the new party at odds with Iraq and Jordan, whose Hashemite rulers had uneasy relations with Cairo and Riyadh. The National Party originally relied on many of the old faces of Syrian politics, such as Saadallah al-Jabiri, Lutfi al-Haffar, Fares al-Khoury, Jamil Mardam Bey, and Fakhri al-Barudi. These men banked on their credentials in leading the the anti-French struggle since 1920. The majority of Syrians were, however, below the age of 25. Many had not even been born when these elders started their political careers during World War I. They were looking for a different kind of leaders, certainly younger ones. Many of these politicians were already in their mid-fifties by now, while Fares al-Khoury and Hashem al-Atasi were past retirement age, now in their early seventies. Some like Jamil Mardam Bey had suffered critical character assassination during their tenure in government and were becoming more of a liability than an asset for the newly born party.
Shukri al-Quwatli argued that leading the nation with the same faces of the 1920s would spell out disaster for Syria. He decided to usher in a new generation of politicians into the National Party, namely the sons of his former colleagues who had been raised in political families. He had watched these men closely for years and hand-picked them to be his allies in the elections of 1943. Asaad Haroun, the son of the Latakia notable Abdulwahid Haroun was one of them, and so was Zuheir the son of Jamil Mardam Bey, and Suheil, the son of Fares al-Khoury. Quwatli saw them as natural continuations of their fathers. The National Party succeeded in heralding a smooth transfer of power within the nationalist movement. Quwatli personally never became president of the National Party but positioned himself as a father figure of the nation as a whole, more of an arbitrator than a partisan, as he had been during his youthful days in the National Bloc. He appointed Sabri al-Assali and Lutfi al-Haffar to head the party branch in Damascus, while Saadallah al-Jabiri and the AUB-trained medical doctor Abdul Rahman Kayyali chaired its offices in Aleppo. In addition to handling party affairs, Sabri al-Assali also became Shukri al-Quwatli's campaign manager in the summer of 1943, charged with handling his entire list of candidates in the upcoming elections.
Quwatli's investment in young people paid off immediately. On 13 June 1943 a declaration was published in the Damascus daily, al-Qabas, signed by 20 self-proclaimed "Damascus Intellectuals," all in their late 20s and early-30s (Al-Qabas, 13 June 1943). They articulated full support for Quwatli's presidential bid. Among the signatories were the Oxford-trained AUB professor Adib Nassour and two Sorbonne-educated schoolteachers from the Tajheez High School, Michel Aflaq and Salah al-Bitar. Aflaq and Bitar were middle class working professionals who were traditionally critical of the Damascus landowning notability. Aflaq was a Greek Orthodox and Bitar a Sunni Muslim; Adib Nassour was an Alawite. All of them had been staunch Shahbandarists in their teens. Dhouqan Karkout, a Druze schoolteacher and early founder of the Baath Party, recalls how he approached Quwatli's campaign office that summer, on the behalf of Michel Aflaq. The future Baathist wanted to join the National Party. Also lobbying on Aflaq's behalf was Nizar Qabbani, a young poet and son of Quwatli's long-time ally, Tawfiq Qabbani (Interview with Dhouqan Karkout by Sami Moubayed, Damascus, 11 April 2004). Lutfi al-Haffar politely turned them down, saying: "Shukri Bey apologizes. The list is closed!" Four years later, Aflaq and Bitar were to become Quwatli's loudest critics after they founded the Baath Party in 1947.
For starters, Quwatli wanted a floor nomination from the Damascus Street before officially declaring his candidacy for the vacant Presidency. Accompanied by his entire entourage, he headed to Danqiz Mosque for Friday Prayer in late January 1943. He introduced his allies to the crowd, one after another, describing each as a "noble patriot and brother," while omitting his name on purpose (FO 226/240/9/4/180, Memorandum to FO, 1 February 1943). Lutfi al-Haffar climbed the podium to declare: "The people of Damascus will never recognize a parliament that does not include Shukri al-Quwatli!" The overwhelmed crowd was worked into a frenzy and began to passionately call Quwatli's name. Quwatli feigned surprise, and then waved to the crowd, in a commanding gesture. The mosque went mute. He rose to podium once again to deliver a supposedly impromptu speech about how important it was to re-unite the nationalist leadership to drive the French out of Syria, once and for all. "If this is the desire of Damascus, I will never turn it down!" He made reference to the Holy Quran and to ancient Muslim history, then said, "I am willing to move heaven and earth to see Syria independent." Speaking clearly to articulate every word, he added, "I announce from this mosque, at the request of the noble people of Damascus, my nomination for Parliament and for the upcoming presidential elections next August." The crowd broke into jubilant applause. They escorted him from the mosque to the Ministry of Interior at the Grand Serail, where he submitted his full list of candidates.
The National Party's election campaign was blessed by a sharp increase in bread prices, from 8 to 8.5 piasters per kilo (Philip Khoury, Syria and the French Mandate, p. 599). Wheat on the black market rose to four times its controlled price, leading to widespread riots against the French and acting president Jamil al-Ulshi, the last embodiment of the Sheikh Taj era. In addition to the bread crisis, Ulshi, a committed Francophile, was faced with an economy already reeling from 6 million Syrian Pounds in deficit (Philip Khoury, Syria and the French Mandate, p. 599). As a result, the French ordered a tax hike, hoping to raise 15 million Syrian Pounds in order to deal with the crisis and to bankroll the French war effort in the Middle East. The bread crisis was excellent campaigning material for Quwatli and his friends, who promised to resolve it immediately if they won the elections. On 7 February 1943, they brought Damascus to a complete standstill (Al-Ayyam newspaper, 8 February 1943). Waving a large Syrian Flag, the National Party politicians staged a massive demonstration at the arched Hamidieh Bazaar, shutting down shops, markets, schools, and banks. Bakeries were stormed and French flags were pulled down in public squares. They organised another demonstration in early March. General Catroux responded with a violent crackdown on young members of the National Party (FO 371/35175, Spears to FO, 9 February 1943). Catroux eventually found himself forced to bend to pressure from the Syrian nationalists, just like his predecessors during the great Syrian strike of 1935.  Prices were slashed, arrested nationalists were released, and Jamil al-Ulshi was relieved of his duties in late May, replaced with the Nationa Party-backed statesman Ata al-Ayyubi, as interim Prime Minister to supervise the upcoming elections. 
Fadi Esber is the editor of Dimashq Journal
Follow us on Twitter @DimashqJournal
http://www.damascus-foundation.org/wp-content/uploads/2017/06/4-kouatlyceremony.jpg
444
640
Admin 2
http://www.damascus-foundation.org/wp-content/uploads/2018/02/DHF-LOGO-TEXT-arabi3c.png
Admin 2
2017-06-23 20:44:22
2017-09-04 09:18:28
Damascus During World War II